With labor day now past, we come to the slow and painful realization that summer is drawing to a close. To help ease the transition, we suggest you go out and try some pumpkin beer! The very thought of putting the large orange fruit into beer could seem quite repugnant to some, but I entreat you to try before you judge.
Pumpkin beer was one of the originals when America was first colonized. Given that barley was not native to the US, nor was it easily imported, the colonists looked for other ways to produce beer. Pumpkin was readily available and (as some believed) had added health benefits.
Today's pumpkin beer leans more toward a pumpkin pie taste than replicating a pumpkin in a glass. Some lean toward sweet, while others resemble beer with hints of pumpkin – just enough to know you're not drinking a typical beer. Pumpkin beer is a specialty class of it's own, standing outside the general ale/lager region. It only appears during the fall, typically after labor day, but due to popularity companies have shipped a little early this year. If you see it, I advise you to grab it – this stuff doesn't linger on shelves for long.
Beer Reviewed:
O'Fallon Pumpkin Beer
Wild Onion Pumpkin Ale
New Holland Ichabod
Unita Punk'n
Dogfish Head Punkin' Ale
Samuel Adams Double Pumpkin Ale
Southern Tier Pumking
Shipyard Smashed Pumpkin
Brewery
: O'Fallon
Website
:
http://www.ofallonbrewery.com/
Name
: Pumpkin Beer
Strength
: 5.6%
Tina C.: This pumpkin beer seems very akin to an ale, with a rich amber color and crisp taste. The balance of pumpkin flavor with the spices was perfect for easy and smooth drinking. This was the first beer we tasted, and quickly agreed that it was one of our favorites.
Leah: This beer was lighter than I expected, but strangely enough I loved it. I'm not normally a light-beer gal. It has a resemblance of mulled cider with a definite nutmeg flavour. Not overpowering or sweet. A pumpkin beer I could actually drink multiples of.
Brewery: Wild Onion
Website: http://www.onionbrewery.com/
Name: Pumpkin Ale
Strength: 5.4%
Tina C.: It was a little bizarre to drink a craft brewed beer that came in a can. I had high hopes for this, however, since it is brewed locally in Barrington. The pumpkin flavor wasn't strongly prevalent. The beer was an easy drinking ale and might be best for those new to the beer world. If you like a light tasting beer, this one will certainly be for you. Beer snobs might rather steer clear.
Leah: Nope, no high hopes. I instantly described this as the Miller Lite of pumpkin beers. Great for portability and very easy to drink a bunch of. I couldn't even drink half of it, but I'm a horrid snob. It's a stretch to even call it pumpkin beer as it had no obvious notes of autumn flavours.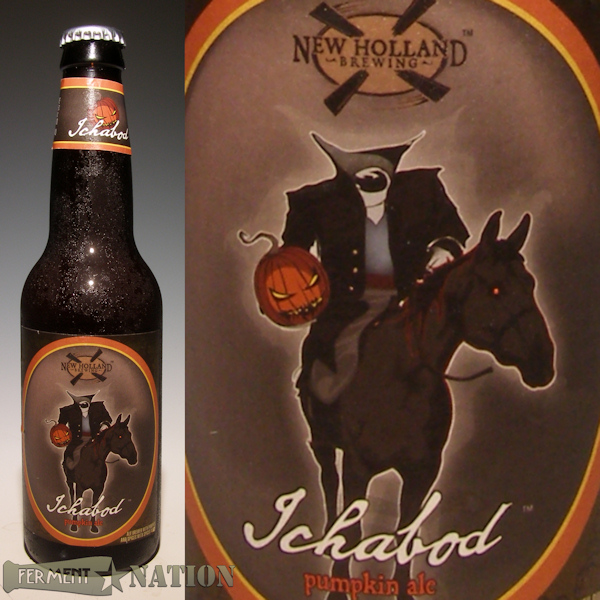 Brewery: New Holland
Website: http://newhollandbrew.com/
Name: Ichabod
Strength: 5.0%
Tina C.: Also local (well, semi local), this brewery is one of my favorites. I've been to the facility and conducted an entire beer flight during tulip season – in my opinion the best time to visit New Holland. Still, their pumpkin beer falls short for me. With a distinctly flowery scent and a taste we couldn't put our fingers on, it was not one I was willing to finish. Still, for those who prefer the light taste and scent, this beer still might be for you. It also had a lager-like quality, so if lagers are your thing, you may wish to give it a try. In general, I opt for New Holland's other brews and avoid Ichabod.
Leah: I can't add a whole lot more to Tina's opinion. It's spot on. This beer had a very unexpected and strong perfume-taste, almost a musk. If I wasn't looking for "pumpkin" it may have been intriguing, as I like heavy flavours. But as a member of our theme, it failed.
Brewery: Unita
Website: http://www.uintabrewing.com/
Name: Punk'n
Strength: 4.0%
Tina C.: The pumpkin flavor in the beer was rather light, with slight notes of hops. I would liken this to an IPA, but there will likely not be enough hops satisfy true IPA fans. Still, the light spiced drinks could be satisfying for for some. For me, it just was not something I'd want to drink.
Leah: I'm an IPA fan. We know where this is going. This beer had the most true "beer" flavour of any of the options, with very little seasoning noticeable at all. I'm not going to call it false advertising, but it certainly doesn't deserve it's Punk'n name.It was more of an amber, which can be ideal for those of you who want to participate in fall trends but really don't like flavoured beers. It's not sweet, and has no clover/nutmeg aftertaste.
Brewery: Dogfish Head
Website: http://www.dogfish.com/
Name: Punkin' Ale
Strength: 7.0%
Tina C.: In all honesty, this is one of my two favorite pumpkin beers…and I walked into this tasting knowing that this beer was my measurement for all other beers. To be fair, I don't even believe in drinking beer with a lower alcohol percentage, as it usually means that it has aged less and doesn't offer the complexity that a higher alcohol beer tends to offer.
Punkin' Ale has a delicious balance of pumpkin pie sweetness combined with a balance of spices (such as nutmeg, cinnamon, and clove). It's sweetness will eventually get to you, so it's not something you could drink all night. Still, in those chilly fall days, it is the perfect way to end (or begin?) an evening.
Leah: Like Tina, I saw this bottle and my heart lifted. I love Dogfish Head. So many of their beers are exactly what my tastebuds beg for. They are heady, hoppy, and delicious. Balanced. As expected, the Punkin' Ale was no exception (and thank god for that, the last few were disappointing). This beer has almost a sweet beginning, with a husky finish. It has a light fragrant perfume smell (read: earthy, herby) but is a heavier beer. Definite pumpkin and seasoning notes. I could drink quite a few of these, but then again I drink slowly and often prefer stouts.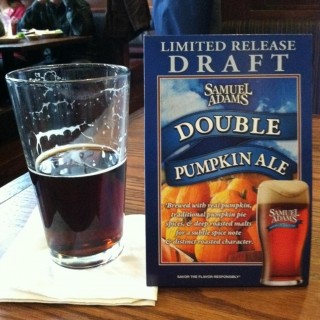 Brewery: Samuel Adams
Website: http://www.samueladams.com/
Name: Double Pumpkin Ale
Percentage: 8.5%
Tina C.: Given that it's Sam Adams, the joy of this pumpkin beer is that it can probably be located more readily than other pumpkin beers on the list. Overall, while it wasn't a favorite, it certainly wasn't bad. Double Pumpkin was likely the sweetest of all the beers we tasted, and the spices were much more in-your-face. I put this towards the middle of the pack, but would still rate it as a beer worth trying. Bonus points for having one of the best labels.
Leah: As it's getting up there in alcohol content, I'll give it a few more points as well. It is absolutely thicker and darker than the other beers, with a distinct maple syrup quality to it. It's good and herby but not spectacular. It was too sweet for me to be able to finish the entire beer, but it certainly wasn't because I hated it. Middle of the pack is a valid placement.
Brewery: Southern Tier
Website: http://www.stbcbeer.com/stbc/
Name: Pumking
Percentage: 8.6%
Tina C.: Well, this brewery had me at their quirkier winter flavor, but I was dubious when I first tried Pumking. This was years ago, when I had long dubbed Dogfish head as the reigning pumpkin beer. Why try a potentially shitty beer when I already know the best? Well, I'm happy to say I was wrong. Very, very wrong. Pumking is, in my opinion, the absolute king of the pumpkin beer category. It has a vanilla scent and gently seduces your tastebuds with flavors that are clean and crisp without overwhelming the palate. It's sweet, sure, but not something that is overwhelming. What's even cooler is that you can age some beers, and this is a beer that is made for aging. Give it a year and it will taste even richer and more complex. If you can wait on a fabulous bottle of beer that long…and, I'm not the kind of girl that likes to wait.
Leah: The first sip of this and Tina and I locked eyes over the table. Vanilla. Like melted ice cream on your tongue. Which sounds like it should be disgusting but it absolutely was not. It was brilliant. How many of you eat pumpkin pie without vanilla ice cream on it? Vanilla beans or extract is one of the key components to a proper pumpkin meal, so it was a stroke of genius to add it to their Pumking beer. It coats your tongue and leaves a delicious aftertaste. With that said, this beer is RICH. While it's lighter than the Sam Adams, it's still a hefty beer and I probably couldn't finish the entire thing without feeling like I ate an entire cake.
Brewery: Shipyard
Website: http://www.shipyard.com/
Name: Smashed Pumpkin
Percentage: 9.0%
Tina C.: Walking into this tasting having sampled nearly every pumpkin beer shipped to Chicago, I really didn't think I'd find another favorite. I'm happy to say that I was wrong. Smashed Pumpkin had a rich blend of spices and pumpkin flavor. While this flavor came out stronger than other beer we sampled, it still didn't feel overwhelming. This one was so tasty, that I finished off my night with it…and finished off the bottle (hey, these are 22oz bottles!).
Leah: We drank a lot of beers. Well, I tasted them. A few I simply pushed away. At this point, I was a tad disillusioned with what is normally one of my favourite drinks. But I was pleasantly surprised by the light and flirty Smashed Pumpkin. It has an obvious blend of seasonings that plays with your mouth, but it manages to not be syrupy. In all honesty, it's a fairly light beer for 9% alcohol, which is actually a positive for a giant bottle you want to drink by yourself.
Final Ranking (most to least favorite)
Tina C.:
Southern Tier Pumking
Dogfish Head Punkin' Ale
Shipyard Smashed Pumpkin
O'Fallon Pumpkin Beer
Samuel Adams Double Pumpkin
Unita Punk'n
Wild Onion Pumpkin Ale
New Holland Ichabod
Leah:
Dogfish Head Punkin' Ale
Shipyard Smashed Pumpkin
Southern Tier Pumking
O'Fallon Pumpkin Beer
Samuel Adams Double Pumpkin
New Holland Ichabod
Unita Punk'n
Wild Onion Pumpkin Ale
You May Also Like:
Leah is a born and bred Chicagoan, and considers herself extremely fortunate to be raised by amazing liberal parents in Logan Square. Coming from a long family history of equality activism, the crazy world of politics feels like home to her. Her upbringing allowed her to fully appreciate her love of tacos, and provided the support needed to be independent and insane. She is a happy survivor of the public school system, all the way through her undergrad years, culminating with a BA in anthropology. Her love of travel and all things adventurous led to the pursuit of a Master of Science from sunny ol' England, where she happily grasped a conservation degree and ran off to live in a number of rain forests to research nocturnal primates. Through the amazing diversity she was fortunate to be raised amongst, she has an unwavering appreciation of all cultures and peoples, and has used this to form the foundation of her outspoken support of civil rights. You may have seen her running around Boystown/Tuna town over the last decade, or at events she volunteers at for the Human Rights Campaign. It's possible you spied her at the Silent Film Festival. That strange woman getting into a wrestling match in the leaves on Foster Ave beach at 3am…that definitely wasn't her. She couldn't be more excited about sharing her love of science, and it's role in our daily lives, with the community she loves. Nerds are cool, people. They drink martini's too.
A transplant from the snow and mountains of Upstate NY (why, yes, there IS an entire state above NYC!), Tina moved to Chicago in 2005. Since then, she's taken full advantage of Chicago's sports scene, participating in rugby, volleyball, and hockey – just to name a few. Her first love, however, is soccer. She's proud to have participated in both the 2006 and 2010 Gay Games as well as the 2009 Out Games. In addition to sports, Tina enjoys traveling (she tries to cross the atlantic at least once a year). Tina is a 'Jackie of all trades', so prepare for the unexpected!